Electronics
Types of ESD Tweezers and How to use them? Anti-static Tweezers, Anti-magnetic Tweezers
Types of ESD Tweezers: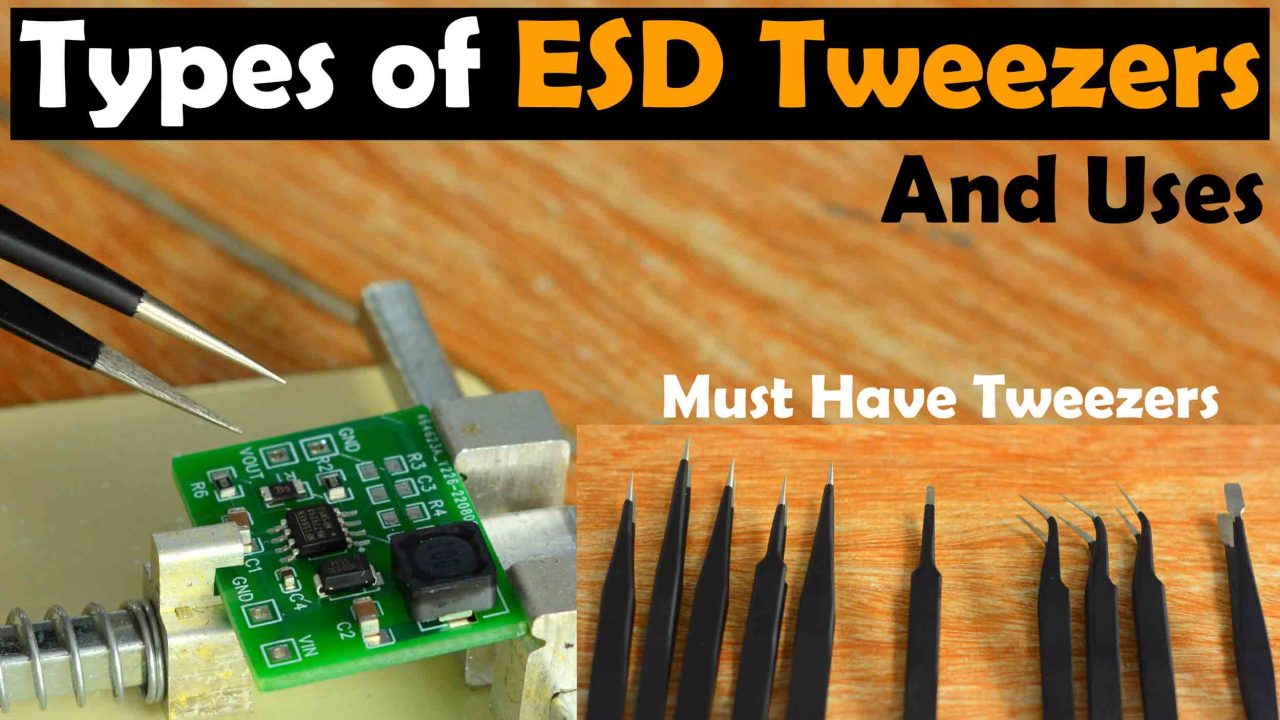 Types of ESD Tweezers and How to use them? Anti-static Tweezers, Anti-magnetic Tweezers- Until I was using large electronics components, until then, I didn't feel any particular need for tweezers; because almost all of these electronics components I could easily pick with my hands. Recently, using the Altium Designer Schematic and PCB designing software; I designed a PCB in which I used tiny SMD components.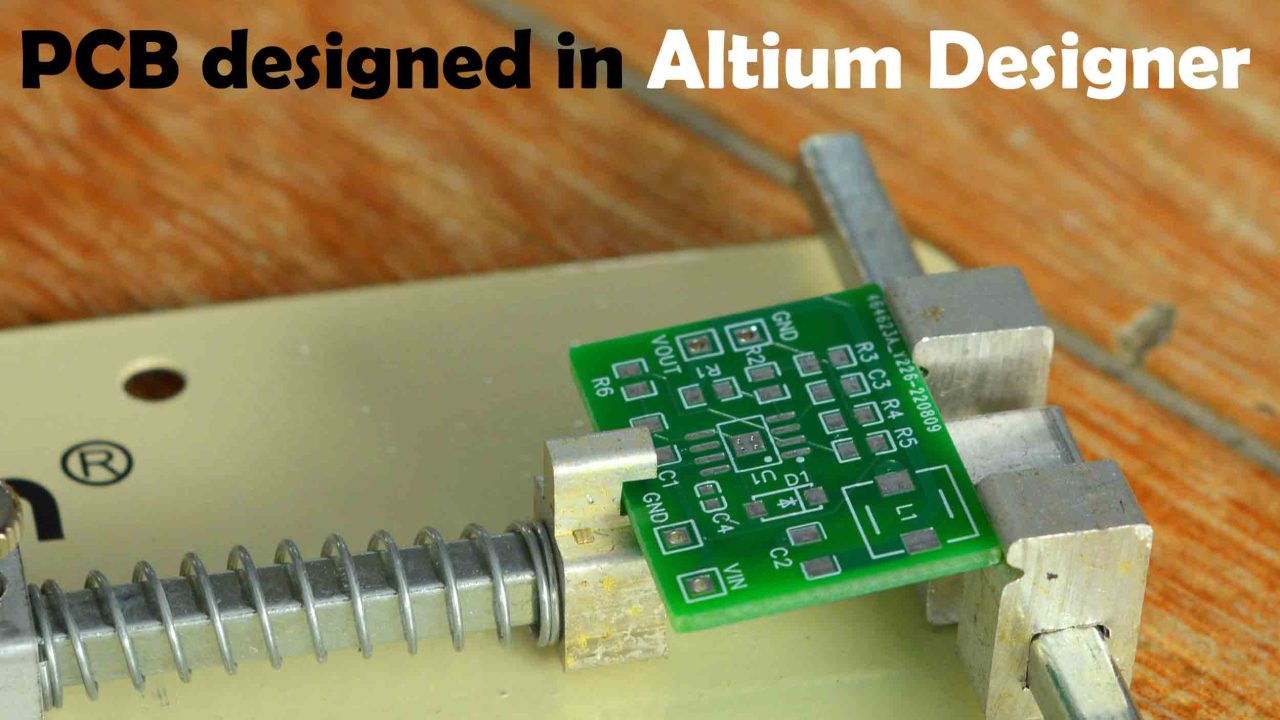 Seriously, designing this PCB in a professional software like Altium Designer was just a 30 minutes job. But the difficulty comes when the components have to be mounted and soldered.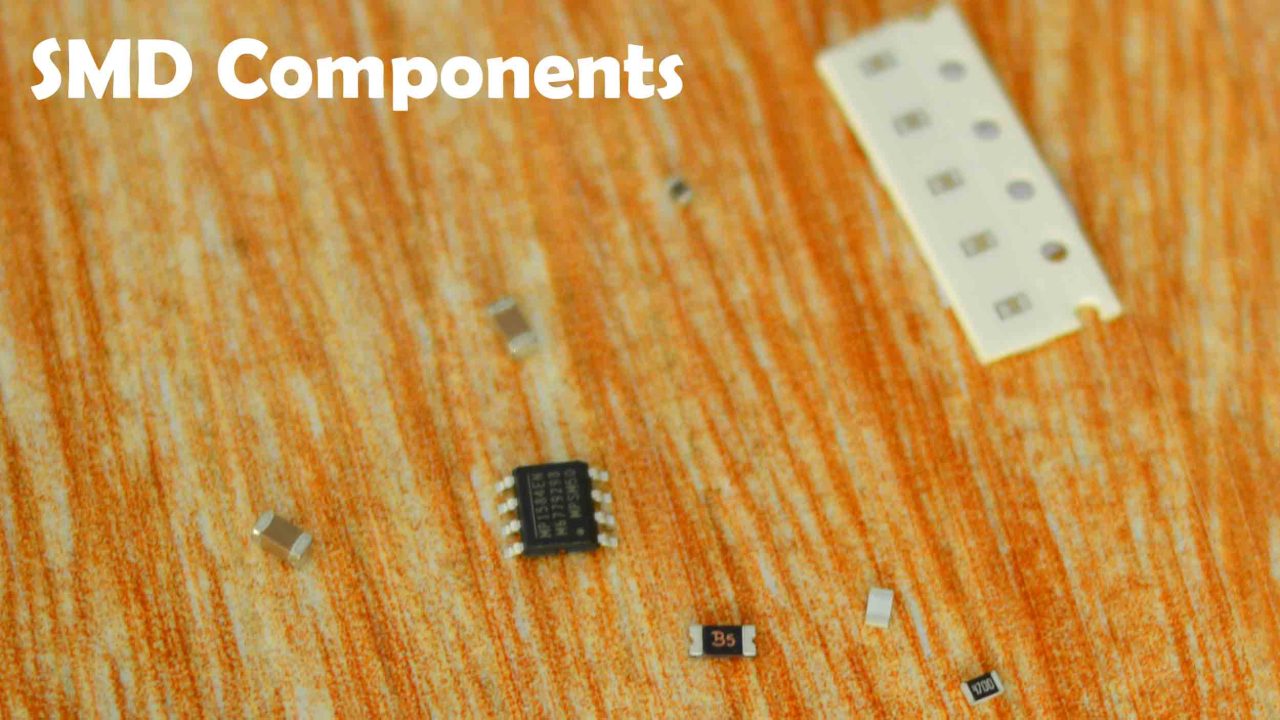 Just look at these tiny SMD components, it's literally impossible for me to place these components on the PCB. And it was at this point when I realized, I need a good set of tweezers.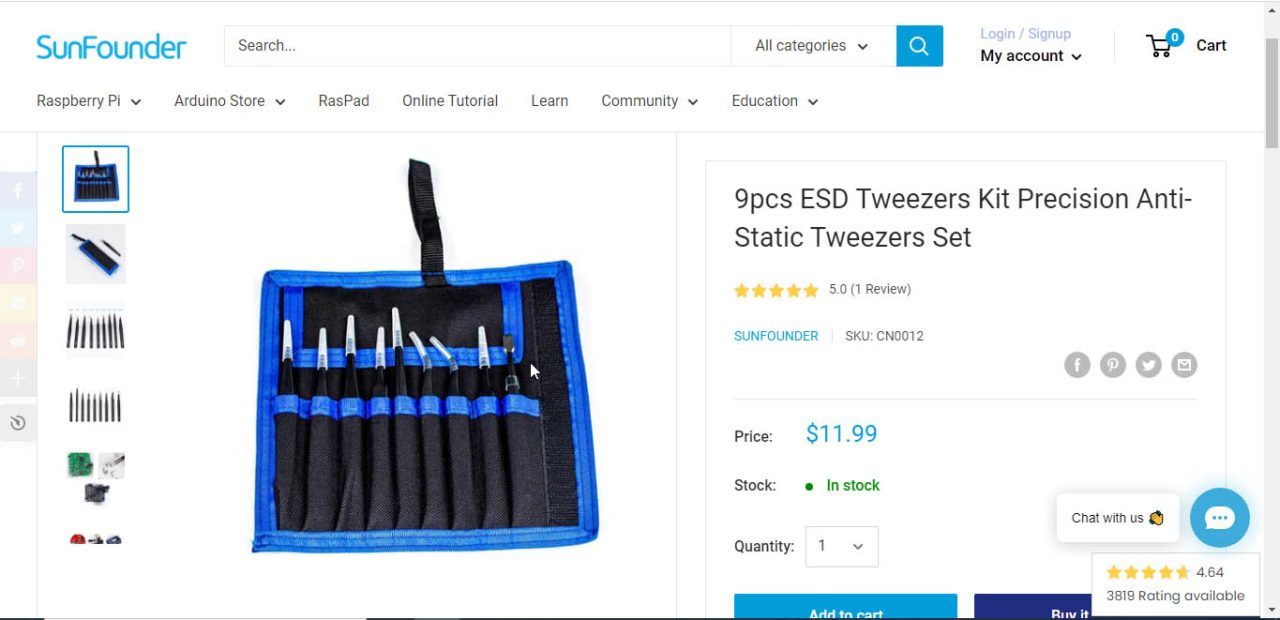 So, I got myself this nice portable ESD Tweezers Tools Kit from SunFounder at only 11.99 dollars with free shipping. It's a 9 pieces ESD Tweezers kit. All the pointed tips are protected with plastic hats. So, be careful while using these pointy tweezers.
Amazon Link:
Other Tools and Components:
Super Starter kit for Beginners
PCB small portable drill machines
*Please Note: These are affiliate links. I may make a commission if you buy the components through these links. I would appreciate your support in this way!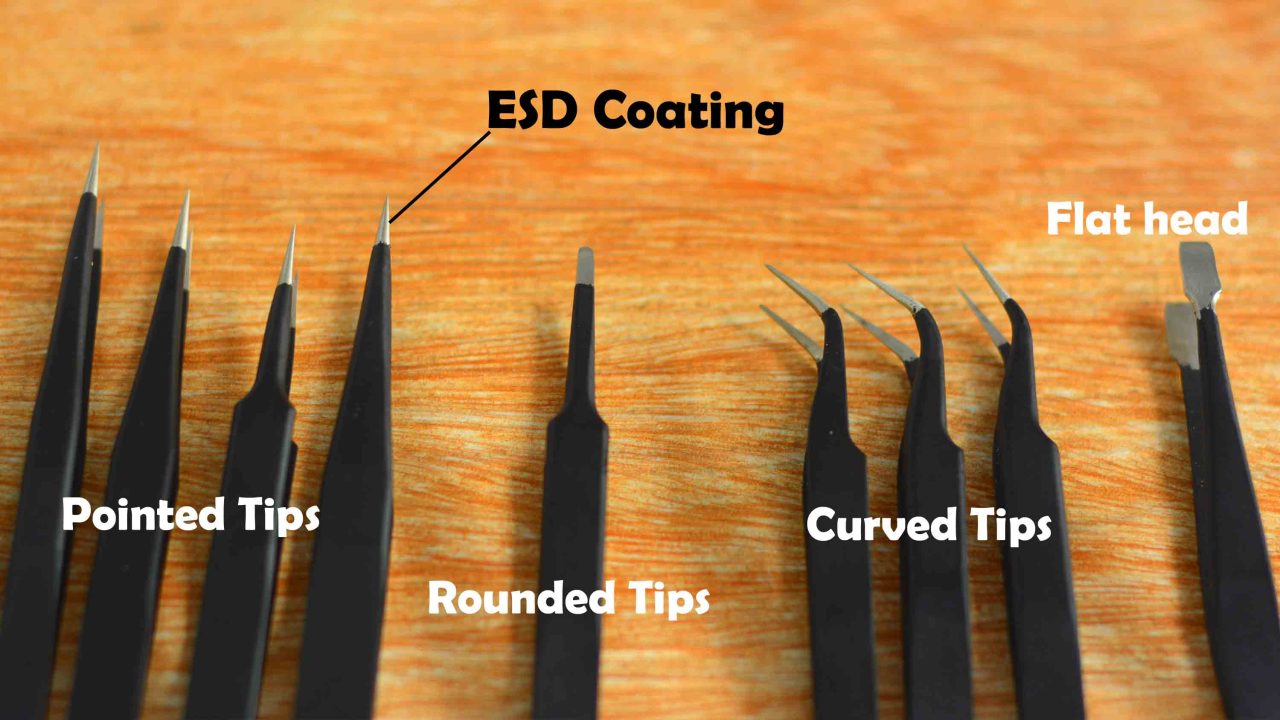 The main reason behind selecting this particular ESD tweezers kit is that, all the tips are electroplated with ESD coating. ESD stands for electrostatic discharge or electrostatic dissipative. It offers additional versatility and safety when working with electrically sensitive equipment or components. In simple words, the tweezers tips are anti-static thus protecting the electronic components against damages due to static electricity.  All these tips are anti-corrosive, anti-magnetic, and solder adhesion resistant for greater functionality across different applications.
All these tweezers can be divided into 4 groups.
Pointed Tips Tweezers

Rounded Tips Tweezers

Curved Tips Tweezers and

Flat head Tweezers
With these pointed tips tweezers, you can easily mount and remove small smd components including resistors, capacitors, ICs, controllers, etc. These pointed tips are ideal for reaching into small and hard to reach areas.
Rounded Tips tweezers are used where high levels of precision aren't required.
Curved Tips Tweezers allows the user to have easy control and accuracy at a comfortable angle.
Flat Head Tweezers are ideal for picking up larger objects, as they offer a larger surface area than standard tweezers.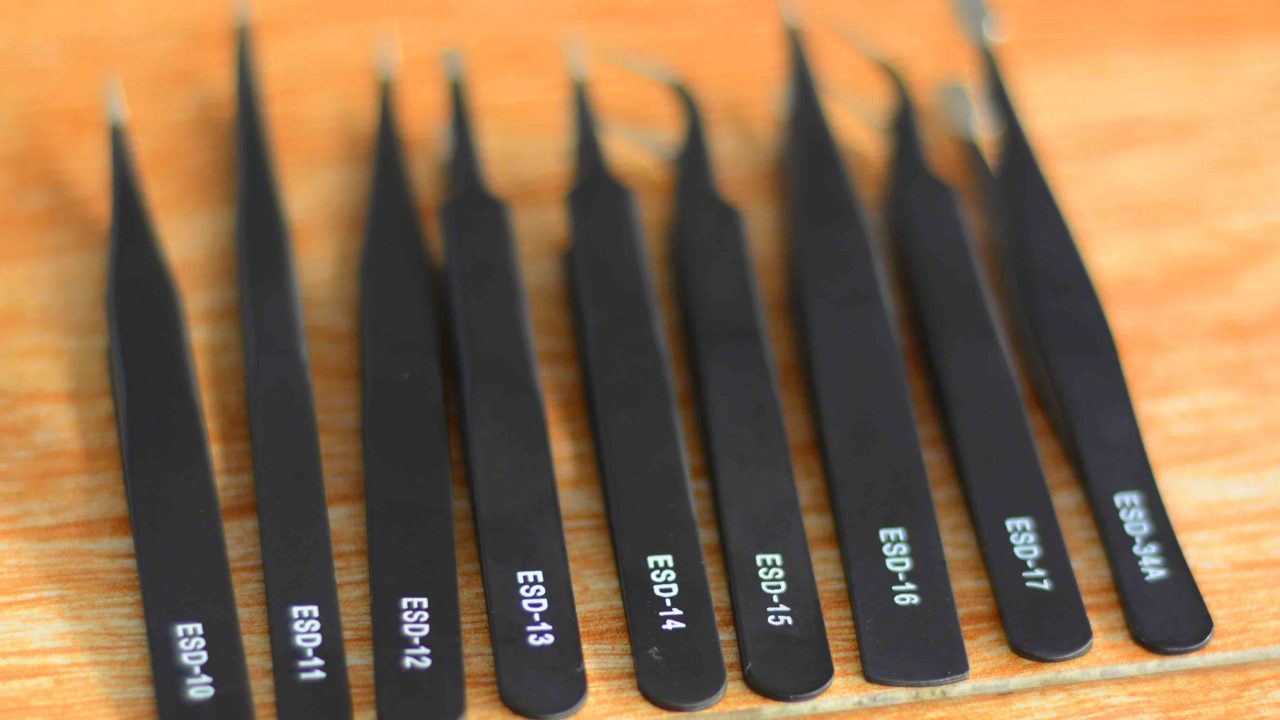 Every Tweezer has ESD and a number printed on it. The number presents a particular job it can be used for.
EDS-10: can work with soldering integrated circuit chips, or install replacement parts.
EDS-11: slender tweezers, suitable for small space replacement of precision components.
EDS-12: longer tweezers, the front width is more suitable for clamping circuit boards and other occasions need force.
EDS-13: not easy to damage devices, suitable to extract chips, circuit chips and other small parts from narrow space.
EDS-14: the whole tip is straight and slender, suitable for precision operation in narrow space.
EDS-15: 45°curved tip, suitable for precision operation and extraction in narrow space.
EDS-16: the whole tip is straight and slender, suitable for narrow space within the precision operation
EDS-17: 30°curved tip, suitable for precision operation and extraction in narrow space.
EDS-17: 10°curved tip, suitable for precision operation and extraction in narrow space.
EDS-34A: flat head tweezers with better hardness, suitable to clamp components, help processing components pins, and do some simple forming work.
Altium Designer + Altium 365 + Octopart: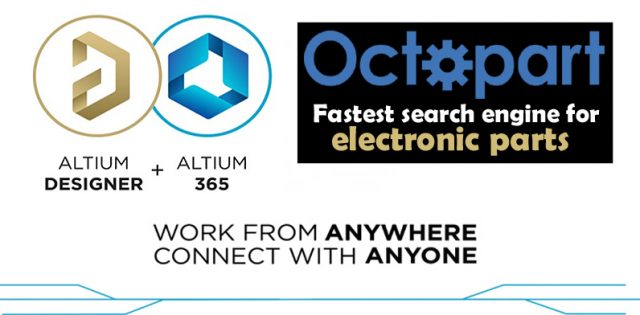 Altium 365 lets you hold the fastest design reviews ever. Share your designs from anywhere and with anyone with a single click. it's easy, leave a comment tagging your teammate and they'll instantly receive an email with a link to the design. Anyone you invite can open the design using a web browser. Using the browser interface, you're able to comment, markup, cross probe, inspect, and more. Comments are attached directly to the project, making them viewable within Altium designer as well as through the browser interface. Design, share, and manufacture, all in the same space with nothing extra to install or configure. Connect to the platform directly from Altium Designer without changing how you already design electronics. Altium 365 requires no additional licenses and comes included with your subscription plan.
Get real-time component insights as you design with Octopart built into Altium 365. Octopart is the fastest search engine for electronic parts and gives you the most up-to-date part data like specs, datasheets, cad models, and how much the part costs at different amounts etc. Right in the design environment so you can focus on your designs. Start with Altium Designer and Activate Altium 365. Search for electronic parts on Octopart.