Articles
Unleash the Magic Power of IoT with the New Wio-WM1110 and Get FREE Seeed Fusion PCBA Services
Wio-WM1110:
Unleash the Magic Power of IoT with the New Wio-WM1110 and Get FREE Seeed Fusion PCBA Services- Hey there, amazing community members! Get ready to embark on an exhilarating journey where we push the boundaries of technology and delve into the realm of endless possibilities with our extraordinary Wio-WM1110 projects. This is your chance to join us in this exciting adventure that will revolutionize the way we interact with the world around us.
With Wio-WM1110, we're breaking new ground and opening doors to innovative ideas and groundbreaking solutions. From IoT marvels to cutting-edge automation, the potential of Wio-WM1110 is boundless, and we invite you to be a part of this transformative experience.
Discover more about Wio-WM1110 Module and Seeed Fusion PCBA Service
Introducing the captivating Seeed Studio Wio-WM1110, the unrivaled wireless module designed specifically for developing low-power, long-range IoT applications. Immerse yourself in the world of seamless connectivity as you explore the remarkable features of this innovative module.
With the powerful combination of Semtech LR1110 and Nordic nRF52840, the Wio-WM1110 module harnesses the potential of Semtech's LoRa technology, enabling reliable long-range wireless communication like never before. Say goodbye to limitations and embrace the freedom of seamless connectivity.
Experience the convenience of GNSS tracking, Wi-Fi, and Bluetooth services all in one compact module. This remarkable integration not only enhances efficiency but also minimizes complexity and reduces costs, making the Wio-WM1110 an ideal choice for IoT developers.
Unleash the true potential of your projects with the Wio-WM1110's magnificent asset tracking function. Seamlessly manage inventories, prevent asset loss, and safeguard against theft with ease. Whether you're venturing into the world of smart agriculture, wireless meter reading, or smart city applications, this module is your ultimate companion.
Embrace a future where technology seamlessly integrates with everyday life. Seeed Studio's Wio-WM1110 empowers you to create smart and sustainable solutions, revolutionizing the way we live, work, and connect. Get ready to unlock endless possibilities with this exceptional wireless module.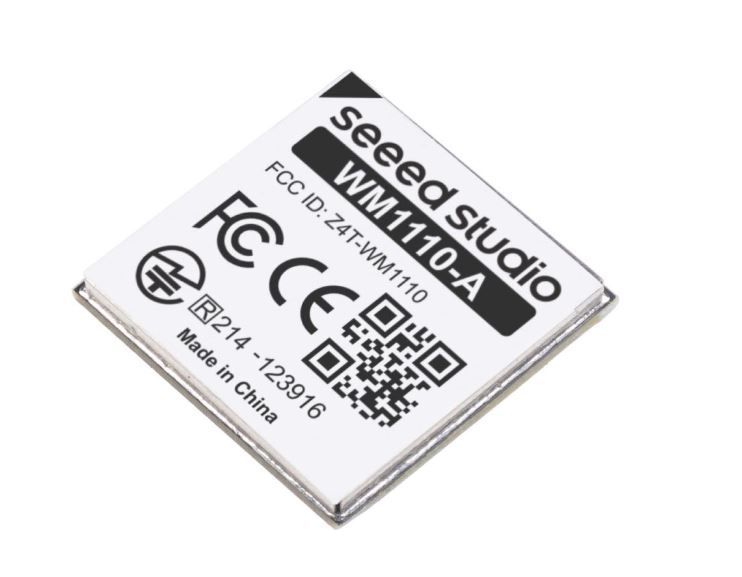 The powerful Wio-WM1110 module has found its application in the cutting-edge SenseCAP S2120 8-in-1 LoRaWAN Weather Sensor, revolutionizing various sectors such as smart agriculture and urban weather monitoring. This seamless integration brings forth a wealth of benefits.
Equipped with the Wio-WM1110 module, the SenseCAP S2120 weather sensor captures essential metrics crucial for precise weather monitoring. From air temperature and humidity to wind speed and direction, rainfall intensity, light intensity, UV index, and barometric pressure, this sensor provides comprehensive data that empowers you with hyper-local weather information.
By utilizing the efficient LoRaWAN® transmission technology, the weather sensor ensures seamless data transmission to your preferred devices or platforms. This enables you to effortlessly access real-time and accurate weather information specific to your location.
With the Wio-WM1110 module integrated into the SenseCAP S2120, you gain unparalleled insights into weather conditions, allowing for informed decision-making in various industries. From optimizing agricultural practices to enhancing urban planning and beyond, this powerful combination opens doors to limitless possibilities.
Experience the convenience, accuracy, and reliability of the SenseCAP S2120 weather sensor powered by the Wio-WM1110 module. Embrace a new era of hyper-local weather monitoring, where valuable data empowers you to make smarter, more efficient choices for a better tomorrow.

We are ready to illuminate and spread your ideas coupled with projects anytime!
Seeed, as a strong advocate for technological innovation and creativity, is delighted to extend its support to the global hardware community. In line with this commitment, Seeed proudly sponsors Wio-WM1110 projects, empowering individuals to bring their ideas to life.
With Seeed's Fusion PCB Assembly Service, the process of exploring and realizing your concepts becomes a breeze. No more hassles of sourcing and assembling components, as Seeed takes care of everything for you.
If you have a captivating concept for the Wio-WM1110 and a passion for sharing it with the community, we encourage you to connect with us. By collaborating with Seeed and leveraging the comprehensive capabilities of Seeed Fusion's agile manufacturing, we can transform your vision into reality. As a special offer, you can even receive two boards fabricated and assembled at absolutely no cost, thanks to Seeed Fusion's turnkey PCB Assembly service.
Moreover, for those with mass production requirements, we wholeheartedly recommend utilizing the Seeed Fusion PCB Assembly service to obtain Wio-WM1110 modules. Discover the exciting discounts that await you, opening doors to efficient and cost-effective production.
Seeed stands as your partner in turning dreams into tangible achievements. Let us be the catalyst for your Wio-WM1110 project's success. Together, we can fuel technological advancements and contribute to a thriving hardware community. Find out more about these fantastic opportunities below!
Wio-WM1110 has been added to Seeed Open Parts Library, available for just USD$14.9!
What does that imply? Similar to all PCBA OPL components, these specific parts can be utilized with the Seeed Fusion PCB Assembly service at a reduced cost. However, the key advantage lies in the fact that these parts are readily available locally. By sourcing all the necessary parts from the OPLs, it becomes possible to achieve exceptionally rapid PCB assembly in as few as 7 working days.
Based on one part per PCBA. Until further notice.
Can't wait to apply? Then keep reading to discover more exciting details.
One Step Closer to Wio-WM1110:
Please fill out the form: click here to submit your bravo project ideas.
Each individual is eligible for two PCBA boards absolutely free of charge for a single design. This includes PCB fabrication, parts cost, assembly, and shipping. It is necessary to incorporate the Wio-WM1110 in the design.
When creating the BOM file, simply include Seeed SKU 114992865 or part number Wio-WM1110 in your BOM file. Add the order to your cart, and then contact our customer support (fusion@seeed.io) to receive the corresponding cash coupon for settlement.
By participating in this event, you agree to provide feedback on your experience and grant us permission to share it, as well as the design, with the community through our social media platforms (Facebook, Twitter, blog, etc.). The design does not have to be open-sourced, and production files will not be disclosed to the public unless you specifically request it. Our aim is that your experience will inspire more users to embrace IoT, LoRaWAN®, and its potential.
Scale up your Wio-WM1110 Creation with Seeed Studio Co-Create Program!
Selected Wio-WM1110 projects that receive positive feedback will be invited to join the Seeed Studio Co-Create Program. Through this program, your products can be listed, sold, and shipped directly by Seeed on the Seeed Studio Bazaar. Additionally, we will provide assistance to designers in reaching a vast network of like-minded customers and distributors by leveraging Seeed's global sales channels and extensive social media presence.