FPV Drone for Beginners, Description: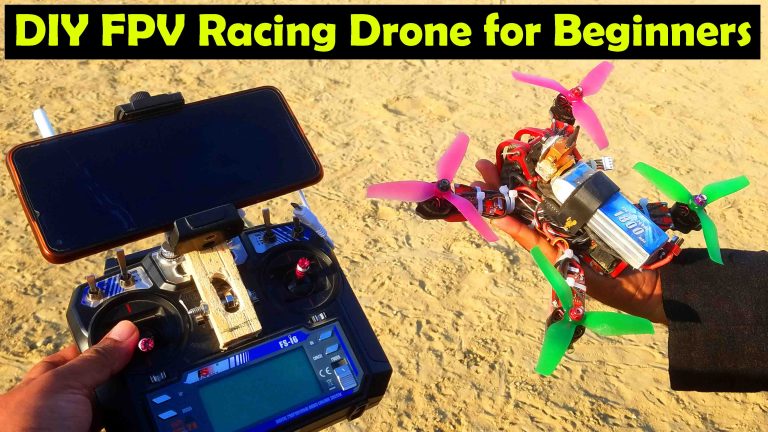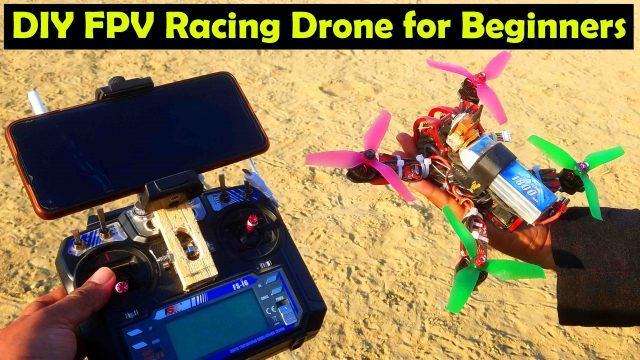 DIY FPV Drone for Beginner, Build your own FPV Drone, FPV Racing Drone- I have been making Quadcopter drones for the last few months using different flight controllers including CC3D, KK 2.1.5, and Naze32 Rev6. I have practiced a lot and now I know I how to use the throttle and control sticks. Like every new Drone pilot, now I wish to build an FPV Drone. A normal drone without an FPV camera is far different than the Drone with an FPV Camera. So, in this article, you will learn how to convert any Drone into an FPV Drone.
Previously, I built this beginners level Racing Drone using Naze32 Flight Controller, EMAX 2nd generation 2600kv motors, 30A ESCs, Flysky Fs-i6 Transmitter and receiver, 5×4.2 inches propellers, and the Puda Rooster 230 Carbon Fiber frame. I have been flying this racing drone for a few days and since then it's doing pretty great. I haven't seen any serious issues like motors twitching, drifting, and vibrations. My fingers are getting used to the new PID settings and RC rates. My line of site drone piloting skills are pretty improved and now I feel like it's time to move on to the next level, which is the FPV or First Person View.
I have never tried an FPV Drone before and seriously I have no idea how it feels when you are flying an FPV Drone. I know it's gonna feel so awesome but I have no such personal experience and that's why I have decided to convert this normal racing drone into an FPV drone. So, before I share with you the test results and how I converted this racing drone into an FPV drone, first, a few words about the sponsor of this article for helping me purchase the required components and tools.
Altium Sponsor: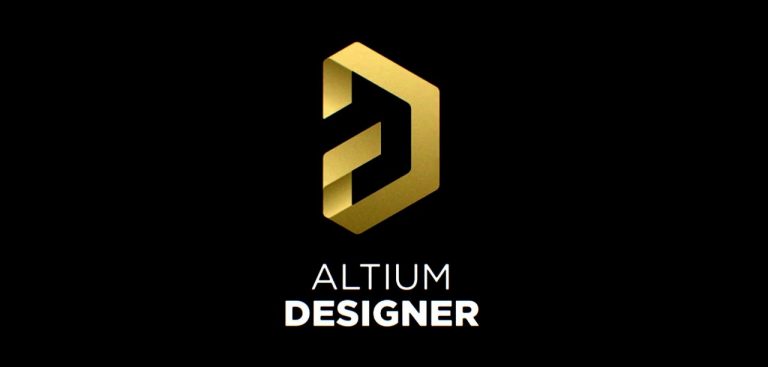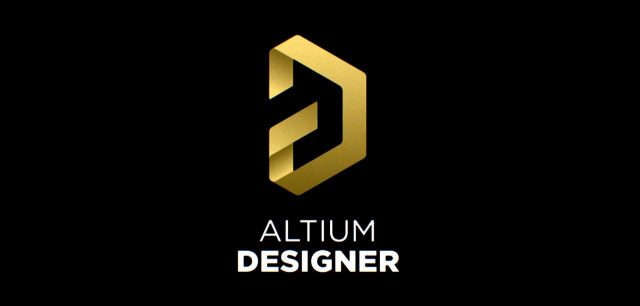 Altium Designer is the world's most trusted PCB design system. Altium Designer enables engineers to effortlessly connect with every facet of the electronics design process. Over 35 years of innovation and development focused on a truly unified design environment makes it the most widely used PCB design solution. With Altium Designer you can create PCB designs with an intuitive and powerful interface that connects you to every aspect of the electronics design process. Route it your way through any angle, tune for the delay, Push, Slide, and Walkaround faster than ever. Interact and collaborate with mechanical designers like never before in a photo-realistic, 3D design environment. If you want to get started with the Altium designer, you can click on the get started.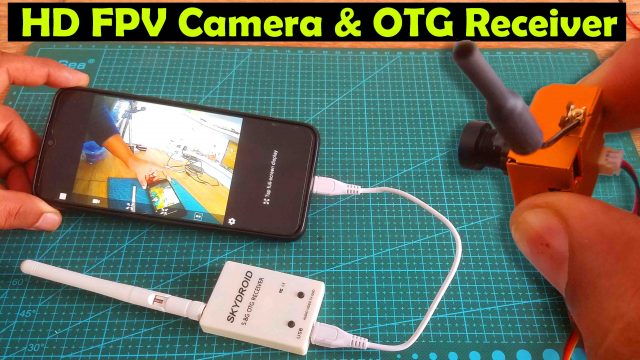 In my previous article, I have already explained how to get started with the All in One 5.8GHz 800tvl Mini HD FPV Camera and On The Go OTG Receiver for Android. So, if this is your first time using an FPV Camera and the OTG Receiver then I highly recommend read my previous article. My previous article can be really helpful for you, as I have explained different ways to power up the Mini FPV Camera. I demonstrated how to power up the FPV camera using 1S lithium Ion battery, I also powered up the same FPV camera using 5V voltage regulator 7805, and I also powered up the same FPV camera using a 30A ESC.
In this article, I will not explain the things which I have already explained in my previous article. So, here is my Racing Drone and let's convert it into any FPV Racing Drone. Without any further delay, let's get started!!!
Amazon Links:
EMAX 2nd generation 2600kv motors
Flysky Fs-i6 Transmitter and receiver
Puda Rooster 230 Carbon Fiber frame
Other Tools and Components:
Super Starter kit for Beginners
PCB small portable drill machines
*Please Note: These are affiliate links. I may make a commission if you buy the components through these links. I would appreciate your support in this way!
Building an FPV Drone: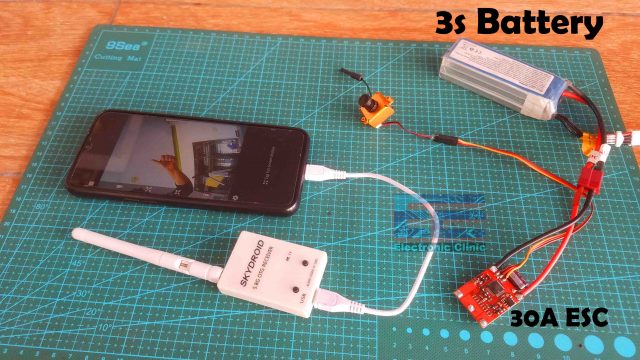 This is the kind of setup which I have already explained in my previous article, link to which I have already shared above. I am powering up this Mini FPV Camera using this 30A ESC, as you can see I have already removed the motor wires, because for now I am only interested in these Red and Brown wires, which are the 5v and GND wires, which I have connected with the Camera Red and Black wires. The thick Red and Black wires on the ESC are connected with the 3S or 4S Lipo battery pack to supply power to the Camera. This is just a regular 30A ESC. So, I am going to use this ESC to power up this camera, I know this is not a permanent solution, I will need a specially designed BEC, but right now I don't have it, so that's why I am starting with the ESC.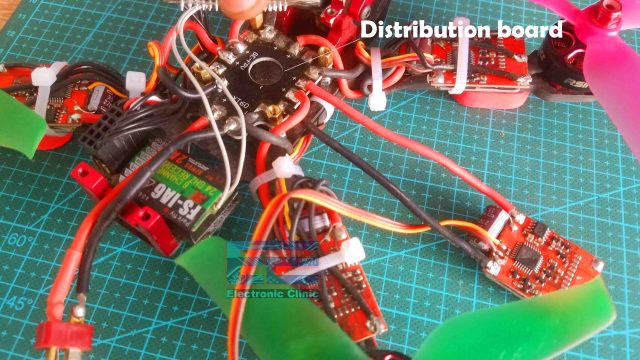 You can clearly see, I just soldered the Red wire with the Plus and the Black wire with the Minus and that's it, our connections are completed and then we have these Red and Brown wires which are going to be connected with the FPV Camera, the Yellow wire is not used.
I fixed the ESC on the back side using a zip tie. So, as the ESC is on the back side and the camera is going to be mounted on front side, so the CG will remain almost the same.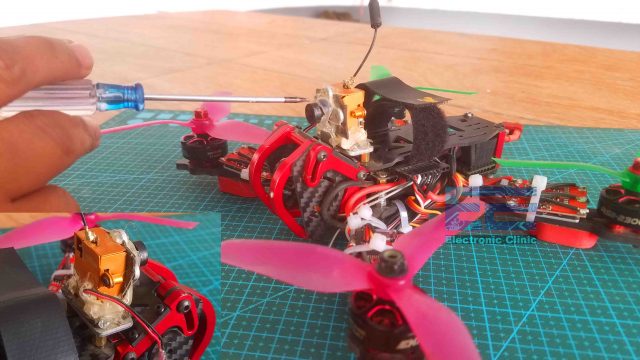 This FPV Camera is just not compatible with this frame and I also don't have a 3D printer, otherwise I would have designed a holder for this camera. Anyways, I fixed this camera on the top and it doesn't look bad at all, it's just a temporary setup, I will replace this camera with another best quality FPV camera once I learn how to control an FPV Drone, because I have heard a lot that FPV drones are very difficult to control. Since, I am a beginner, I don't want to damage an expensive Camera. For now this setup is enough for me.
Since, I will be using my cell phone for the live video streaming, for this I will have to attach my cell phone to the transmitter.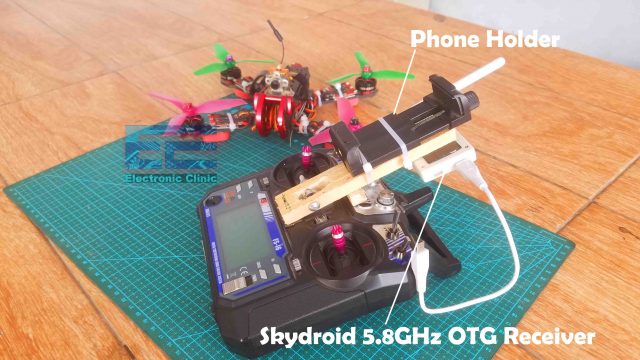 So, I modified my transmitter, and this is the most basic setup which I could think of. I am using this small piece of wood connected to my transmitter; to the wood I attached my cell phone holder using zip ties and on the backside I attached my Skydroid 5.8GHz OTG Receiver. So, it's just a very basic getting started setup.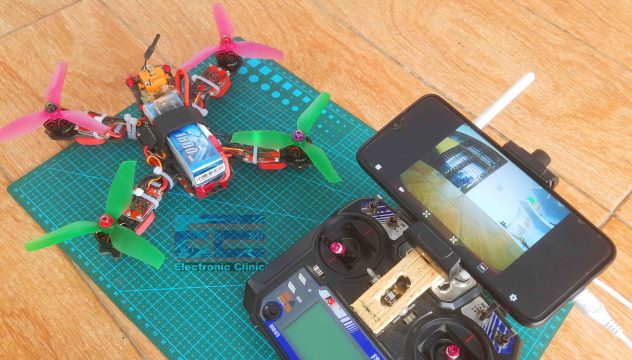 The camera is ON, you can see live video streaming on the cell phone screen. Perfect, so far, everything is done correctly. My FPV Drone is ready for its first flight test. If you find it hard to follow the steps then watch my video given at the end of this article.
FPV Drone 1st Flight Test: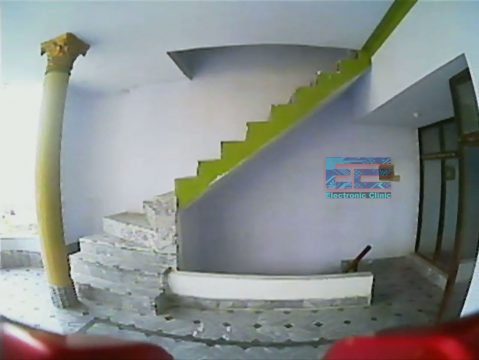 During my first flight test, I realized how hard it is to control an FPV drone. Actually, right from the beginning I am used to the line of site drone flying, with this FPV Drone I feel like as if this is my first time flying a Drone. It's just a whole new experience when you are looking at the cell phone and not the Drone. I was just confused, all my skills were back to zero, I was trying hard not to crash the Drone, but I crashed it. 
FPV Drone 2nd Flight Test:
The 2nd flight test wasn't too bad; I noticed a little improvement, as I was very gentle with the throttle and control sticks, but still I crashed it.
 FPV Drone 3rd Flight Test:
During the 3rd flight test, I realized, I need an open space to practice and I also suggest the same thing for you, as you will never want to damage your first FPV Drone and you will never want to hurt someone.
FPV Drone 4th Flight Test: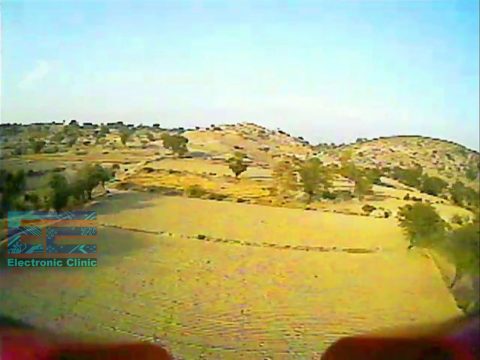 I practiced for 3 days in this open field and it really helped me in getting started with my FPV Drone, right now you can see there are a lot of noises in the video transmission, this is because of the Noise coming from the ESC, So, I will try adding a capacitor, or I will purchase a BEC.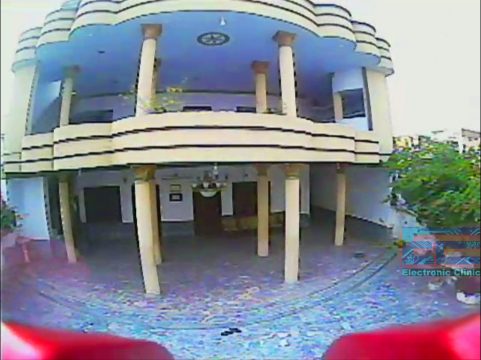 Basically, this article is not about how to fly an FPV Drone, because I have just started with the FPV Drone, once I improve my skills then I will share with you the tips and tricks, I will keep recording the videos and this way you will get the idea how I improved. So, that's all for now.
Watch Video Tutorial