Qualcomm Snapdragon 8 Gen 1: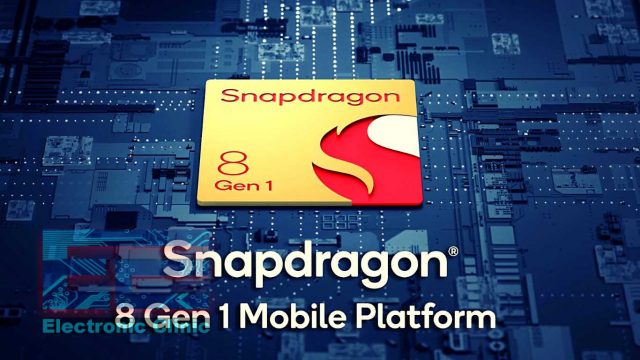 Qualcomm Snapdragon 8 Gen 1 complete review with benchmarks- Hey what's up guys? Welcome back to my website. In today's article, I'm going to give you a review of my favorite chipset which is the Qualcomm Snapdragon 8 Gen 1. I'm going to give you its complete details so let's get started.
From the beginning, I was a big fan of the Qualcomm Snapdragon chipsets because their chipset is far more efficient and powerful than Mediateak and Apple. But this time the QUALCOMM snapdragon 8 generation is the game changer processor on the market right now.
The chipset was on December 1, 2021. It is manufactured using four-nanometer processor technology and it has one core that is ultra-high performance is based on cortex x2 that is based on3.0 gigahertz and all three cores are the high-performance cores that are based on cortex a720 and that kept on 2.5 gigahertz and the four cores that is power efficiency course based on1.8 gigahertz.
AnTuTu 9
Qualcomm Snapdragon 8 Gen 1

GPU    

428067

Memory

175864

CPU

228047

UX

171611

Total score

998024
Amazon Links:
Check these out:
*Please Note: These are affiliate links. I may make a commission if you buy the components through these links. I would appreciate your support in this way!
Now let's talk about the benchmarks starting from Antutu. In Antutu benchmarks, we will measure the CPU, GPU, ram, and input-output performance in different scenarios. The CPU performance shows (228047)that is awesome CPU performance. This GPU is crashing every other processor on the planet right now scoring (428067)that is awesome man, this processor scored more than snapdragon720, 778, 750g only by GPU performance wow that is amazing. The memory also shows (175864) because they are using the ufs 3.1 boost that is more which means you will get more read and write speeds. The UX also shows (171611) because this phone can support a 144hertz refresh rate with 4k quad HD plus resolution. Total scores (998024) beating every processor on this planet right now gaining the first blast on Antutu 9 benchmarks. These scores can be different in different smartphones because of ram sizes, camera, ram, etc. The first phone with this processor across the 1 million in antutu 9 is the Realme Gt 2 Pro I already have published an article on the Realme Gt 2 Pro so if you are interested make sure you also check out (theRealme Gt 2 Pro complete review).
GeekBench 5
                                                               GeekBench 5  Performance
Single-Core
1227
Multi-Core  
3803
Now let's talk about the geek bench 5. The geek bench 5 single-core shows 1248 amazing scores with the multi-core3852that is awesome scores according to the geekbench 5 on the snapdragon generation1. This is the best score for heavy gaming and for desktop-like performance.
                                      Phones with Snapdragon 8 Gen 1
Brands AnTuTu v9
Scores
Oppo Realme GT2 Pro
1015993
Xiaomi 12 Pro 
1007363
OnePlus 10 Pro           
998549
Xiaomi 12
989775
 This phone is using the Qualcomm Snapdragon 8 Gen 1. The top one the Realme Gt 2 Pro tops the antutu scores and the base one is the newly launched Xiaomi12.
                                                            CPU
Cores
8
Frequency
3000 MHz
Architecture
1x 3 GHz Cortex-X2

3x 2.5 GHz Cortex-A710

 4x 1.8 GHz Cortex-A510

Instruction set
ARMv9-A
Process
4 nanometers
Now let's talk about the CPU architecture; based on one core on cortexx2 that is 3 gigahertz the ultra-high performance scores cortex a710 that three processors using 2.5 gigahertz and the power efficiency cores at 1.8 gigahertz using cortex a510they are using the 8 cores but the frequency is 3.0 gigahertz 3000megahertz. The instruction set architecture is also newer because they are in the arm version-9a. This processor is fabricated on 4nanometers. This processor is more efficient and more powerful. This CPU is a beast when it comes to gaming. The Realme Gt 2 Pro uses this CPU. The pubgm graphics support the stable 90fps thanks to this new GPU.
Graphics
GPU name
Adreno 730
Architecture
Adreno 700
DirectX version
12
Now let's talk about the graphics. The graphics name is Adreno 730 and the architecture is based on Adreno 700. The graphics also support DirectX12. This GPU is 50% faster than the previous Snapdragon 888 plus. This GPU is also more power efferent because it is based on 4nm technology. This GPU can run more smoothly in demanding games like call of duty mobile, PUBG Mobile, etc.
Ram
Max size        
24 GB
Memory frequency  
3200 MHz
Memory type
LPDDR5
Bus     
4x 16 Bit
Now let's talk about the ram they are using the lpddr5 ram I'm a little disappointed why to go with the lpddr5 instead of lpddr5x that was used on Mediateak Dimensity 9000. They are using the 4x 16-bit buses which means you have the better speeds because of the four-channel support.
The snapdragon 8 gen 1 can support 24 GB of ram using the lpddr5 and the max memory frequency of 3200 megahertz. The ram size depends on the manufacturer which can be random but they can go with a max size of 24GB. I am expecting the Lenovo or the ASUS gaming smartphone to come with 24GB of LPDDR5 ram.
                                               Connectivity

Neural processor

(NPU) Hexagon

Max display resolution

3840 x 2160

Video playback

8K at 30FPS, 4K at 120FPS

Video codecs

H.264, H.265, VP8, VP9

Max camera resolution

1x 200MP, 2x 64MP

Storage type

UFS 3.1

Video capture

8K at 30FPS, 4K at 120FPS

Audio codecs

AAC, AIFF, CAF, MP3, MP4, WAV
Now let's talk about multimedia. They are using hexagon npu which is their neural power engine that is fast, thanks to new algorithms and new AI technology. They are also using the ufs storage 3.1. Which have better read and write speeds. The max display resolution is also 4k this CPU can support the 4k displays in the smartphone lineup so it's a huge update in smartphones. The max camera resolution Qualcomm Snapdragon 8 Gen 1 can support the the200-megapixel camera and the two64 megapixel cameras Samsung is working on HM5200 megapixel sensor so that means in 2022 we will get to see the 200-megapixel camera using this Qualcomm Snapdragon 8 Gen 1 . Samsung and Sony is been started working on the 200mp sensors which they said we are going to see soon. The 200mp sensor will be a game-changer in smartphones. Qualcomm Snapdragon 8 Gen 1 supports 8k at 30 fps and also can playback at 30 fps and 4k upto 120 fps and the video codecs and audio codecs are also is pretty much the same.
Connectivity

Modem                Snapdragon

X65

4G support

LTE Cat. 24

5G support

Yes

Wi-Fi

6

Bluetooth

5.2
Now let's talk about connectivity. They are using the snapdragon x65 modem the same modem that was used on Apple A15 bionic. The Qualcomm Snapdragon 8 Gen 1 also supports 5g and can 4g up to LTE cat 24. They are using the Wi-Fi6 with Bluetooth 5.2 and this processor was announced on December 2021 and now launching in different smartphones. This was my complete review of the Qualcomm Snapdragon 8 Gen 1 so if you guys learned something new then make sure you guys also check out my other reviews on smartphones and chipsets.