GPUs
AMD Radeon RX 540X full review
Description:
AMD Radeon RX 540X full review- Well one of the basic GPUs from AMD is this GPU. We know that nowadays we can find some most valuable GPUs but this GPU is also one of them. Well, you will be quite surprised that this GPU is relatively faster than its big brother RX 550 4GB, because of its higher base clock speed. So today we will find out whether this GPU is still a good option for those who are tight on budget or not.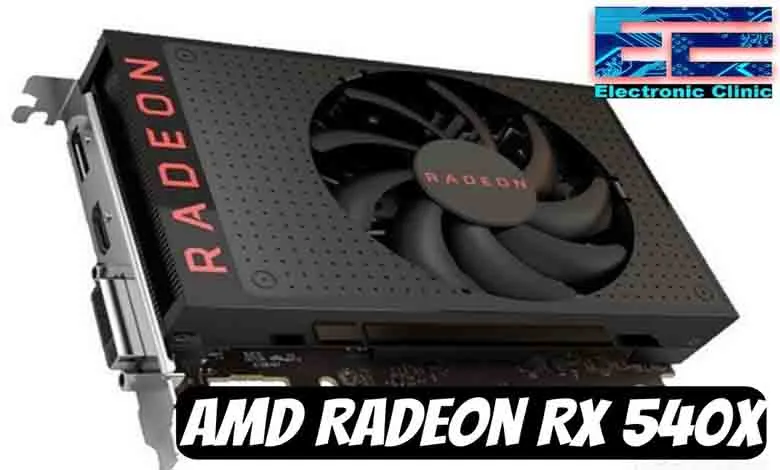 AMD Radeon RX 540X
Name and Architecture:
| | |
| --- | --- |
| Manufacturer: | AMD |
| Model: | Radeon RX 540X |
| Architecture: | Graphics Core Next 4.0 |
| Fabrication process: | 28 nm |
| Transistors: | 2.2 billion |
| Bus interface: | PCI-E 3.0 x 16 |
| Launch date: | February 2019 |
When we were testing this gpu we found out that it is faster than its big brother RX 550, which is a little odd. We know that the faster the base clock and boost clock the faster the performance of a gpu will be, that's how AMD RX 6600XT beats the shit out of from NVidia RTX 3050. This gpu was launched back in 2019 but still lives up for its performance. This gpu has 2.2 Billion transistors and to keep them cool it has some of nice looking cooling heat sinks and fans. This gpu is based on 28NM which makes it a little hotter in some intense situations. One of best things about this gpu that is PCIe gen 3 which means every motherboard that supports Gen 3 GPUs will eke the most out of it.
Frequency:
| | |
| --- | --- |
| Graphics clock: | 980 MHz |
| Boost clock: | 1124 MHz |
The base frequency of this GPU is 980 MHz, which is faster than most new GPUs. The Boost Clock is also faster than other GPUs at this point which is 1124 MHz the base frequency is going to help in mostly GPU-bound games like Call of Duty Warzone.
Memory specifications:
| | |
| --- | --- |
| Memory size: | 2048 MB |
| Memory type: | GDDR5 |
| Memory clock: | 1750 MHz |
| Memory clock (effective): | 7000 MHz |
| Memory interface width: | 128 bit |
| Memory bandwidth: | 112 GB/s |
AMD Radeon RX 540X has 2 GB of GDDR5 memory with a frequency of 1750 MHz. Which is really fast compared to its predecessors. The memory clock of this GPU is 7 GHz, which is amazingly fast and don't forget this GPU is also power full. This GPU interface is 128-Bit. The memory bandwidth is a lot faster than its predecessor also. Like it's faster than AMD Radeon R7 240 and AMD Radeon R7 250. The memory bandwidth is freaking 112 GB/s which is awesome.  The cache memories are also good in terms of performance. The memory clock of this AMD Radeon RX 540X is 7 GHz which will help in boosting game performance.
Cores & Texture:
Compute units:

8

Color ROPs:

16

Stream processors:

512

Texture units:

32

Decoders:

Adobe Flash




DXVA 1.0 & 2.0




H.264




MPEG 2 (SH & HD)




MPEG-4 Part 2 (DivX/Xvid)




MVC (Blu-ray 3D)




VC-1




WMV HD
AMD Radeon RX 540X has 512 Stream Processors. The Cuda cores are more than AMD Radeon RX 540X and AMD Radeon R7 250. There are also 16 ROPs that help in rotating, resizing, and much more. There are 32 Texture Units. There are also 8 Compute units that help with the CPU performance to get the most out of this GPU.
Electric characteristics:
This GPU's maximum power consumption is 50W compared to its predecessor's 100W. There are also many variants of this GPU that can be further overclocked thus eating more power. Which allows the users to get more out of the GPU. The power limit of this GPU is around 70 W which is a lot to get faster performance when it's overclocked. You can get 10-15% more FPS when it's overclocked but I would not recommend that if you don't know about overclocking.
Video features:
| | |
| --- | --- |
| Multi-monitor: | Up to 3 displays |
| Maximum digital resolution: | 7680 x 4320 |
| Maximum DP resolution: | 7680 x 4320 |
| Maximum DVI resolution: | 2560 x 1600 |
| Maximum HDMI resolution: | 4096 x 3112 |
| HDMI: | Yes |
| HDMI version: | 2.0b |
The max monitor support increases with the increase of new technologies and with new updates from monitors, TVs, etc. the GPU's updates as well. This GPU can support maximum display at 8K with up to 1 monitor. There are vainest with different display outputs. But you will find more than 4 display connectors. There are some variants with thunderbolt displays at well. But there will be 2 display ports 1.4 and 2 HDMI 2.0b connectors. The display port can support 8K at 60Hz which is amazing. Because there will be no lags, no delays with this new DP version. There is no 8K support on HDMI. Well because the bandwidth of the HDMI is far less than the bandwidth of DP. If you have a monitor that supports 4k 144Hz or a monitor that supports 240Hz then I will recommend using the DP. Because of its bandwidth.
Performance:
| | |
| --- | --- |
| Pixel fill rate: | 17.98 Gigapixels/s |
| Texture fill rate: | 35.97 Gigatexels/s |
| Single precision computes power: | 1150.98 GFLOPS |
| Double precision computes power: | 1211.39 GFLOPS |
The pixel fill rate of This GPU has scored 17.98 Gigapixels/which is amazingly fast compared to its predecessors. The texture fill rate also scores 35.97 Gigatexels/s. That's why it supports 4K at high frame rates thanks to ROP's. Single computing also scores 1150.98 GFLOPS, and double precision computes power scores 1280 GFLOPS this is amazingly fast. In terms of performance, this GPU is faster than GTX 760.
External connectors:
Standard display connectors:

DisplayPort 1.4




Dual-Link DVI-D




HDMI

Audio input for HDMI:

Yes
Well, one of the most important and key factors about this GPU is its power consumption. This GPU is not that power-hungry. This GPU needs 50 W. There are also 2 display ports, 1 HDMI, 1 Type C port, which is really great for multiple monitors. There is also Audio input from HDMI which also helps with these new monitors.
Dimensions:
| | |
| --- | --- |
| Length: | 5.7 inches (145 mm) |
| Width: | Dual-Slot |
These days the size of the GPU is also important because there are a lot of cases that don't fit some long GPUs. This GPU is 5.7 inches, which can fit in most PC cases. Plus the GPU is also Dual-slot which helps in heat overflow.
Features & Support:
Other features:

Direct Compute 12




AMD PowerTune




AMD ZeroCore Power




ATI/AMD PowerPlay




HD3D Technology




HDCP




High Dynamic Range (HDR) Support

Open CL support:

2.0

OpenGL support:

4.6

DirectX support:

12.0

Mantle support:

Yes

Vulkan support:

1.1.108

Shader model:

6.4
There are a lot of new features in this GPU, and they are updated over time. The most amazing new features of this GPU are Direct Compute 12, AMD PowerTune, AMD ZeroCore Power, ATI/AMD PowerPlay, HD3D Technology, HDCP, High Dynamic Range (HDR) Support, etc. This AMD Radeon RX 540X has Open CL support 2.0 which is a lot more efficient than the last gen Open CL. This will help in boost in performance. AMD Radeon RX 540X also has Open GL 4.6 support which is also faster than the Open GL 4.5. AMD Radeon RX 540X also has DirectX 12 ultimate support. The Vulkan support is also 1.1 which makes the drivers experience more up-to-date. The Shader model makes the texture experience more accurate and more efficient and fast. AMD Radeon RX 540X has the Shader model 6.4.
Gaming Experience:
The gaming experience of this GPU is relatively faster than some of the most heavily GPU out there. AMD Radeon RX 540X has the fastest memories, fast clock speeds, faster memory clock speeds, more Cuda cores, the newest architecture, and higher bandwidth. Which makes the gaming experience more powerful. The more Cuda cores the faster the performance of a GPU will be. Running GTA 5 on this GPU will give you around 50+ FPS. And in almost every game this GPU shows the best performance.
So, this was my full review of the AMD Radeon RX 540X if you want to check out more articles like this then check the reviews in the menu. Also, do check out my YouTube channel. Thanks.
My YouTube channel Link: