RC Paper Airplane:
RC Paper Airplane Making and Flight Test- In this tutorial, you will learn how to make this 1 meter long RC Paper Airplane using 5mm thick foam board, 2600kv Brushless DC Motor, 30A ESC, 1500mAh Lipo Battery, and the Flysky FS i6 transmitter and receiver. The reason this is called an RC Paper Airplane because its shape is very similar to the paper airplane. So, throughout this article, I will call this the RC Paper Airplane. Anyhow,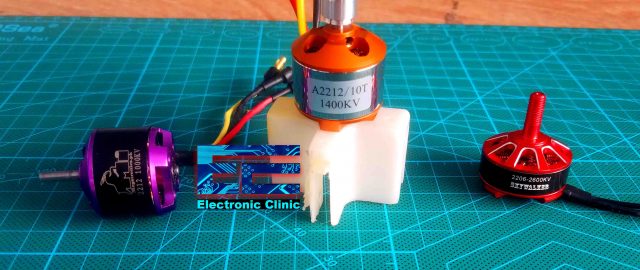 Initially, I started with a 1000kv brushless motor and this wasn't able to produce enough thrust to left this RC paper airplane. Then I tested it with a 1400kv brushless motor and the result was the same. Finally, I decided to use a 2600kv brushless motor which produces over +1000 grams of thrust. After fixing this 2600kv brushless motor and other electronic parts and battery I checked the overall weight of this RC Paper Airplane which is around 630 grams. So, a motor with +1000 grams of thrust should easily lift this RC Paper Airplane. For the beginners I suggest, first making the RC Plane, then check the overall weight of the RC Plane, and then accordingly purchase the Brushless Motor.
About the Sponsor, ALLPCB:

24-Hours Lead Time
ALLPCB is the World's Fastest PCB Manufacturing Company. Feel free to visit their website allpcb.com to not only find out what awesome PCB and assembly services they offer but also to easily upload your Gerber files and thus order affordable and High-quality PCBs quickly. Besides this, you will also get a 30 Dollars Coupon balance, which you can use to get your first prototype order for free.
Prior to the flight test I checked the Center of gravity, it should be a little nose heavy, never fly an RC airplane with tail heavy, by changing the position of the battery you can change the CG or center of gravity, finally, I checked the control surfaces and the brushless DC Motor using my Flysky Fs i6 transmitter. I have already explained how to setup your Flysky FS i6 Transmitter and receiver.
So, after doing all the checking I started with my initial test which was to check the amount of thrust it can produce, the 2600kv brushless motor was able to lift this RC paper airplane up in the air without any problem.
After 2 or 3 failed attempts due to my bad control as it's my first time using this transmitter, seriously as a beginner it's very hard to control such a high-speed RC airplane. Anyhow, I didn't stop and continued with my efforts to make this fly. Finally, I was able to fly this RC Paper Airplane for around 2 minutes, and then the battery completely drained, because I was using a small 1500mAh Lipo battery. Anyhow this was a great success for me. For the practical demonstration watch the video tutorial given at the end of this article.
Without any further delay, let's get started!!!
Amazon Purchase Links:
Best RC planes and Accessories
Flysky FS i6 Transmitter and Receiver
1000KV Brushless Motor, 30A Speed controller, and Propellers
4-Hole Nylon Pin Control Horns
Balsa Wood Sheets for RC Airplane
Other Tools and Components if you need:
Super Starter kit for Beginners
PCB small portable drill machines
*Please Note: These are affiliate links. I may make a commission if you buy the components through these links. I would appreciate your support in this way!
Making of the RC Paper Airplane using Foam Board:
The building part is quite simple as it's a ready-made template. I have explained each and every detail in the video tutorial, which you can find at the end of this article.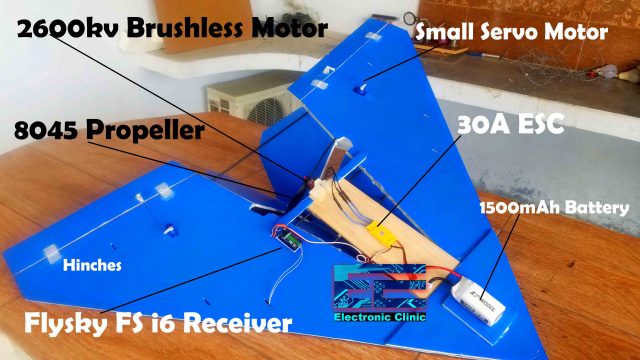 After I was done with the making part, the next step was to set up the Flysky FS i6 Transmitter to control the control surfaces. I have a complete article on this, in which I did set up for the same RC paper Airplane. The link to the article is already shared above.
After performing my tests I made a few changes, I replaced the 2200mAh battery with a 1500mAh to reduce the weight. So I highly recommend this battery for beginners, once you learn the making and controlling the RC plane then you can purchase large size batteries.
I used self-adhesive sticky back tape with the receiver side and other electronic parts so that I can easily attach and remove the electronics. I also replaced the 1000kv brushless motor with the skywalker 2600kv motor. The 30A ESC and other electronics remain exactly the same.
You can see these large openings on the two sides of the brushless motor, I actually cut this to test different propellers and finally, I selected this 8045 propeller which works great with this RC Plane.
Finally, don't forget to secure the Servo Motor mounting hardware with the screw and also use adhesive tape with the control surfaces.
After fixing all the electronics I checked the weight of my RC Paper Airplane. Finally, I set the center of gravity or CG, which is really an important step. I already explained this in the video and I also shared the failed test flights and the successful test flight.
**Remember, use Caution and common sense when building and flying RC plane, and observe applicable laws and regulations (and keep your fingers away from the hot things and spinny part!)**
Related Article:
Arduino based RC Airplane
https://www.electroniclinic.com/how-to-make-rc-plane-with-arduino-and-nrf24l01/
Watch Video Tutorial: