Laptops
Intel Core i5 12500H Complete review with benchmarks
Description:
In today's article, I am going to review Intel Core i5 12500H. I'm going to review its Cinebench R23 (Single-Core) and (Multi-core), Geekbench 5 (Single-Core) and (Multi-Core), Performance, Power Consumption, Integrated GPU, Ram support, and gaming experience.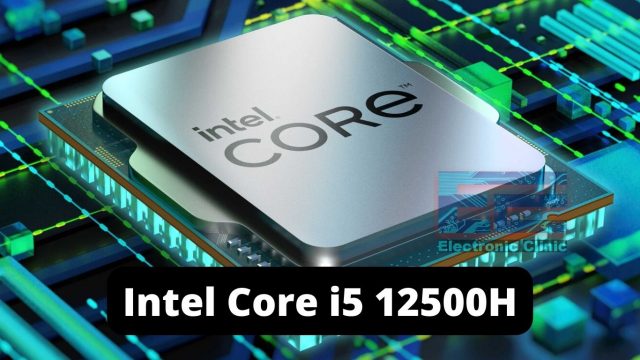 Amazon Links:
Other laptop and computer accessories
*Please Note: These are affiliate links. I may make a commission if you buy the components through these links. I would appreciate your support in this way!
I5-12500H:
Cinebench R23:
| | |
| --- | --- |
| Cinebench R23 (Single-Core) | 1713 |
| Cinebench R23 (Multi-Core) | 14889 |
For decent Gaming-Performance, you should make sure you are above 1000 Cinebench R23 Single-Core Points, and this processor just smashed the other chipsets in the new record-breaking scores of Cinebench R23 Single-Core 1713. In 3D rendering the higher the Multi-Core Score. The better the performance you will see. Anything above 20k+ Multi-Core Points will boost the performance and will render complex scenes in less time. And this processor scores 14889. This will also help in gaming. As most of you will know that the more the single cores scores are the faster will it open and close the applications. The multicore will also help in rendering and gaming. This processor has the speeds of whapping 4.5GHz and can be overclocked further with precautions.
Geekbench 5:
| | |
| --- | --- |
| Geekbench 5 (Single-Core) | 1724 |
| Geekbench 5 (Multi-Core) | 11654 |
Geekbench 5 Test system's potential for gaming, image processing, and video editing with the Compute Benchmark. This also tests your GPU's power with support for the CUDA, OpenCL, and Metal APIs. This processor scored the best in the Geekbench 5. This processor also beats some of the latest and most powerful processors with new record-breaking scores of single-core and multi-core performance. The single-core scores are 1724, and the multi-core scores are 11654. As you guys know. The higher the Geekbench 5 score the higher performance of the processor. Geekbench 5 score that is twice as high will mean the processor is twice as powerful. Ranking of single-core processors by Geekbench 5 score performance worldwide 2022.
Specifications:
| | |
| --- | --- |
| Vendor | Intel |
| Released | January 4, 2022 |
| Type | Laptop |
| instruction set | x86-64 |
| Codename | Alder Lake-H |
| Model number | I5-12500H |
| Socket | BGA-1744 |
| Integrated GPU | Iris Xe Graphics G7 (96EU) |
I5-12500H is a Laptop processor produced by Intel. This processor supports the socket BGA-1744. This processor has 12 cores and 16 threads. The base clock frequency of the Intel Core i5 12500H is 3200 MHz, but with the new Turbo Boost technology, it can go up to 4500MHz. The size of the L3 cache is whapping 30 MB. This chip has also integrated graphics Iris Xe Graphics G7 (96EU). The instruction set architecture is based on x64 and can support x86. As the x64 will make more bandwidth then this x64 will be the best choice. This processor can be more powerful if you chose the right motherboard for it. This processor is so fast that it can beat some of the most powerful and latest processors. This processor also has some of the most amazing speeds.
Performance:
| | |
| --- | --- |
| Cores | 12 |
| Threads | 16 |
| Base Frequency | 3.3 GHz |
| Turbo Boost Frequency | 4.5 GHz |
| Bus frequency | 100 MHz |
| Multiplier | 33x |
| L1 Cache | 80K (per core) |
| L2 Cache | 1280K (per core) |
| L3 Cache | 18MB (shared) |
| Unlocked Multiplier | No |
This chipset has 12 cores and 16 threads with a base clock of 3.2GHz and, a boost clock of 4.5GHz. The bus frequency is 100MHz. which will help PCI lanes in terms of performance. This processor is also unlocked with a multiplier of 33x. This will help in overclocking this processor with the right amount of power consumption. This processor has the fastest L1, L2, and L3 cache memories. The L1 cache memory is 80K per core which means 12 cores have their own L1 cache memories. The L2 cache memory is 14MB but it's shared with the Ram. The L3 cache memory is also 18MB which is also shared with the system. If you are looking for the best value processor, then this Intel Core i5 12500H is the best choice. In terms of gaming, this processor performs very great with good compatibility with the Nvidia GPU and with the AMD GPU. In terms of video editing and graphics rendering this processor also shows the best performance. Because of its base clock of 3.2GHz and the boost clock of 4.5GHz.
Power Consumption:
| | |
| --- | --- |
| Fabrication process | 10 nm |
| TDP | 45 W |
| Max. temperature | 100°C |
This processor is based on 10Nm process fabrication. The TDP shows 45W of power consumption. This processor cannot be overclocked. The most amazing fact about this processor is that the max temperature support of this processor is 100C which is awesome. You can play games as long as you want and this will not affect the speeds or any thermal throttling issues if you have a good CPU cooler or water cooler. Sometimes when this processor takes a bunch of loaded applications then the processor increases the speeds of each core to the needs. This increases power consumption, thus making the CPU hotter.
Integrated GPU:
| | |
| --- | --- |
| Integrated Graphics | Intel Iris Xe Graphics G7 (80EU) |
| GPU Base Clock | 300 MHz |
| GPU Boost Clock | 1300 MHz |
| Shading Units | 640 |
| TMUs | 40 |
| ROPs | 20 |
| Execution Units | 80 |
| TGP | 15 W |
Unlike the AMD Ryzen processors, this processor also has integrated Graphics. Intel Core i5 12500H has 640 shading units with a base clock of 300MHz and a boost clock of 1300MHz. there are also 40 TMUs and 20 ROPs which will help in a performance increase. There are also 80 Execution units. The TGP shows only 15W of power consumption. What basically TMUs are, are texture mapping unit components in modern graphics processing units. It helps in rotating, resizing, etc. ROPs or (Raster operation pipelines) are the rendering output unit. This processor also has a powerful enough GPU that you can play some games on it like Call Of Duty Modern warfare 1, 2, 3, etc. the boost clock will help to stabilize the FPS in games.
Ram support:
Memory types

DDR5-4800, DDR4-3200,

LPDDR5-5200,

LPDDR4x-4267

Memory Size

64 GB

Max. Memory Channels

2
Intel Core i5 12500H can support the DDR5 Ram with a memory frequency of 4800MHz, and DDR4 with 3200MHz. the max memory support of this Intel Core i5 12500H is 128GB. The max memory channel support is also 2. The max memory bandwidth is also 64 GB/s which is incredibly fast compared to AMD. There is no ECC support on this Intel Core i5 12500H.
Gaming Experience:
This processor is a good option for gamers. Considering its capabilities, it performs well in almost any situation like editing, gaming, rendering, streaming, etc. So if you are looking for a processor under $600 then I highly recommend to by this processor because it doesn't have any alternatives. You got 12 cores, 16 threads, and a boost clock of 4.5GHz. This will play every game at high FPS with a good combination of Graphics card and Ram. You will see no issues in the performance unless there is a bottleneck. So to avoid that, I will make complete another article on the best compatible Ram, storage, and GPU for this chipset. Just let me know in the comment.
So, this was my review of the Intel Core i5 12500H. If you guys learned something new then make sure to check out my other articles in the review, as well as my YouTube channel.
My YouTube Channel Link: