Description:
In today's article, I'm going to give you a complete review of the ZTE Nubia Z40 Pro. I'm going to give you a complete spec sheet. I'm going to review the Display, Design and build, Performance, Memory, Storage, Software, Battery, Camera, Main camera, Lenses, Selfie camera, Connectivity, Network, Sound, and pretty much everything that comes in this device.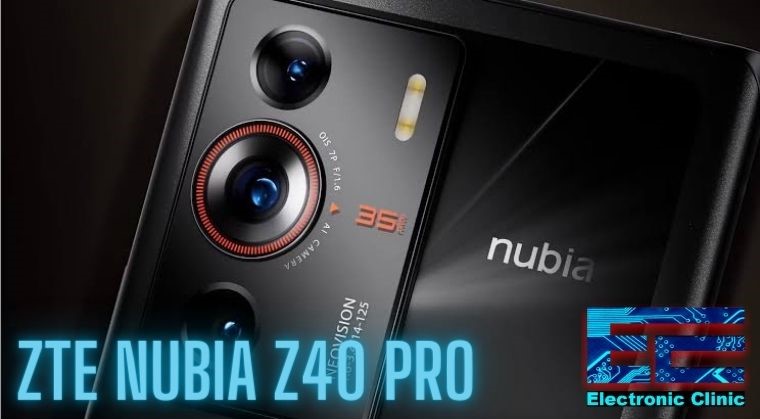 Amazon Links:
*Please Note: These are affiliate links. I may make a commission if you buy the components through these links. I would appreciate your support in this way!
ZTE Nubia Z40 Pro:
Display:
| | |
| --- | --- |
| Type | AMOLED, 1B colors, 144Hz, HDR10+, 1000 nits |
| Size | 6.67 inches, 107.4 cm2 (~91.0% screen-to-body ratio) |
| Resolution | 1080 x 2400 pixels, 20:9 ratio (~395 ppi density) |
ZTE Nubia Z40 Pro has an amazing display. Its 6.67 inches Amoled, 144Hz, with HDR10+ support, and 1000 nits (peak) brightness display, which is far brighter than the OPPO Reno 8 Pro. The display of this smartphone is QuadHD+ with a PPI density of 395. The display is punchier and more powerful with 144Hz support, and more colorful. The gaming experience is also going to be very good because of its 144Hz display and also the content watching will be good. Thanks to DCIP3 technology. ZTE Nubia Z40 Pro is using the Amoled panel. Which is good. This display is also capable of delivering faster performance with no touch lag issuers thanks to the 144Hz. The display is also protected by the gorilla glass victus plus. The display features are always on display. This display is amazingly good in this Flagship smartphone category. The aspect ratio is 20:9 which will support high-resolution movies.
DESIGN & BUILD:
| | |
| --- | --- |
| Dimensions | 161.9 x 72.9 x 8.4 mm (6.37 x 2.87 x 0.33 in) |
| Weight | 199 g (7.02 oz) |
| Build | Glass front, aluminum frame, glass back |
| SIM | Dual SIM (Nano-SIM, dual stand-by) |
ZTE is known for its amazing new designs. ZTE Nubia Z40 Pro with the new design looks more futuristic and stronger than ZTE Black Shark 4 Pro. The rear is made of glass. The frame is made of metal, which makes it heavier. There is IP53 water and dust resistance. In this ZTE Nubia Z40 Pro, we got to see the better design and the better back. It's protected by a metallic frame that's why it makes it heavier by 199 grams. The Camera bump is quite well placed. The fingerprint scanner it's located in the home button and it's fast with new features. The height, weight, and thickness are almost the same as the last-gen ZTE Nubia Z30 Pro.
Performance:
Chipset

Qualcomm Snapdragon 8 Gen 1

Max. clock

3000 MHz

CPU cores

8 (1 + 3 + 4)

Architecture

– 4 cores at 1.8 GHz: Cortex-A510
– 3 cores at 2.5 GHz: Cortex-A710
– 1 core at 3 GHz: Cortex-X2

L3 cache

4 MB

Lithography process

4 nanometers

Graphics

Adreno 730

GPU clock

818 MHz
ZTE Nubia Z40 Pro comes with Qualcomm Snapdragon 8 Gen 1. Which scores great on Antutu 9 benchmarks. It also makes the phone experience much smoother with the 144Hz display. The gaming experience is also going to be on another level. The Adreno 730 is one of the most powerful GPUs in a Flagship phone, which makes the ZTE Nubia Z40 Pro more powerful than other Flagship smartphones. I already published a complete article on this chipset you can check that out here Qualcomm Snapdragon 8 Gen 1.
MEMORY AND STORAGE:
| | |
| --- | --- |
| RAM size | 8, 12, 16 GB |
| Memory type | LPDDR5 |
| Memory clock | 3200 MHz |
| Channels | 4 |
| Storage size | 256, 512, 1024 GB |
| Storage type | UFS 3.1 |
| Memory card | No |
There is going to be three Ram variants in this ZTE Nubia Z40 Pro, 128GB 8GB RAM, 256GB 8GB RAM, 256GB 12GB RAM, 512GB 12GB RAM, 1TB 16GB RAM, with the new Qualcomm Snapdragon 8 Gen 1is a good combination. The ram is LPDDR5 and clocked on 3200MHz. The ZTE Nubia Z40 Pro has fast UFS 3.1 storage support. There are also 3 variants of storage. The base one is 256GB and the peak one is 1024GB. There are going to be some price differences between these two storage options. There is no SD card slot in this smartphone and also it doesn't need it because of the 1024GB of storage option.
Benchmarks:
Geekbench 5:
| | |
| --- | --- |
| Single Core | 1202 |
| Multi core | 4195 |
Now let's talk about the benchmarks. The Qualcomm Snapdragon 8 Gen 1 has good CPU scores in the Geekbach 5. The single core score is 1202. Which is quite impressive when it comes to single-core performance and also the multi-core which is 4195. Which is a lot faster than the newly launched Samsung Exynos 1280. You can check that out.
Antutu 9 Benchmarks
| | |
| --- | --- |
| CPU | 241049 |
| GPU | 446381 |
| Memory | 231742 |
| UX | 174369 |
| Total score | 1095016 |
Qualcomm Snapdragon 8 Gen 1 shows the best AnTuTu 9 scores. We can see a big jump in the GPU and CPU performance. The total performance of the GPU is 446381, which is faster than the HiSilicon Kirin 9000 and Qualcomm Snapdragon 888 Plus. The CPU also shows one of the best scores. It is 241049 which is faster than the HiSilicon Kirin 9000 and Qualcomm Snapdragon 888 Plus. The memory scores also show a significant boost scoring 231742. Qualcomm Snapdragon 8 Gen 1 memory is faster than HiSilicon Kirin 9000 and Qualcomm Snapdragon 888 Plus. The Ux is also showing one of the best performances. It is 174369, which is faster than HiSilicon Kirin 9000 and Qualcomm Snapdragon 888 Plus. Qualcomm Snapdragon 8 Gen 1 total scores are above 1095016.
Software:
| | |
| --- | --- |
| Operating system | Android 12 |
| ROM | MyOS 12 |
The ZTE Nubia Z40 Pro comes with Android 12 support. Which can be customized more than Android 11. In the new MyOS 12, there are tons of new features added to the ZTE Nubia Z40 Pro. This new custom ROM is greatly optimized with new bug fixes and with a new layout that is fun to play with.
Battery:
| | |
| --- | --- |
| Capacity | 5000 mAh |
| Charge power | 80 W |
| Wireless charging | 15 W |
| Fast charging | Yes (50% in 15 min) |
| Full charging time | 0:30 hr |
When it comes to charging. This phone can support fast charging of 80 watts. Which can charge fully in 30 minutes. There is also fast wireless charging support of 15 W. The ZTE Nubia Z40 Pro comes with a 5000Mah battery. Which is just enough for daily usage. The ZTE Nubia Z40 Pro has a full-day battery on a single charge it can live long up to a day.
MAIN CAMERA:
| | |
| --- | --- |
| Matrix | 64 megapixels |
| Image resolution | 9248 x 6920 |
| Zoom | Digital |
| Flash | Dual LED |
| Stabilization | Optical |
| 8K video recording | 30 FPS |
| 4K video recording | 60 FPS |
| 1080p video recording | Up to 120FPS |
| Lenses | (64 MP +8 MP +50 MP) |
 ZTE Nubia Z40 Pro has 3 cameras at the back and main the camera is so amazing that it can take some amazing shots, and can beat some of the camera kings on the market. The ZTE Nubia Z40 Pro main Camera is 64 megapixel F/1.7. What makes this camera setup even more awesome is that this camera lens is combined with the wide aperture of F/1.7, the wider the aperture the more light will it collect and the more sharp the image and video quality will be. This ZTE Nubia Z40 Pro can record video 8K at 30FPS, and 4K at 60 FPS. This is amazing the video will contain more details thanks to its good optimization software and the high-end processor. You can also record 1080P at 240FPS which will be slow motion. There is Optical image stabilization on the main lens only and the telephoto camera. This is as impressive as this will make the camera experience more stable and more accurate. The ZTE Nubia Z40 Pro has 3 more camera lenses. Let's talk about that in detail.
Lenses:
Triple

64 MP, f/1.7, 35mm (standard), 1/1.3″, PDAF, OIS




8 MP, f/3.4, 125mm (periscope telephoto), 1/4.0″, PDAF, OIS, 5x optical zoom




50 MP, f/2.2, 14mm, 116˚ (ultrawide)

Video

8K@30fps, 4K@30/60fps, 1080p@30fps, gyro-EIS, HDR10, 10‑bit video
The main sensor is 64 MP. Which is IMX 787. IMX 787 is the new camera sensor by IMX which is large and has bigger pixels. The main camera saves 12-megapixel images by default. These are all right with enough detail for this class and true-to-life colors the dynamic range is good. However, these photos are not ideal with visible noise and over-sharpening and some corner softness. This sensor is brighter and big. Thanks to the aperture F/1.7. This sensor can take stronger portrait shots and can take great shots in nighttime because it's combined with a wider aperture. This sensor is very good at maintaining a good dynamic range at harsh conditions. This sensor is also good at taking very amazing portraits with strong bokeh and good depth of field. At night the main cam takes good low-light photos. There is enough detail realistic-looking exposure and well-preserved colors. The noise is handled well too night mode photos are sharper with more resolved detail and, you get a wider dynamic range with restored highlights, and develop shadows while the exposure is slightly brighter. The ZTE Nubia Z40 Pro doesn't turn night and day but can take the best night shots. It is a 64 MP sensor so, combining that with great software can result in the best in smartphone photography. The autofocus in this camera sensor is incredibly fast. The sensor is a dual pixel. Overall the sensor is big, bright, and powerful.
There is also an ultra-wide lens of 50 MP. This is also a great sensor considering its capabilities. The 50-megapixel ultra-wide photos are ok for this price range. But nothing great you get enough contrast and wide dynamic range but they come out soft with a low level of detail and the colors are a bit off. In harsh lighting conditions, this camera sensor suffers a lot because of its aperture which is only f/2.2. This sensor cannot take enough light to take good shots at night. The 50-megapixel ultra-wide photos taken at night time are not really usable.  They're incredibly dark and noisy. In video, this camera sensor have a lot of noise. Which is very annoying. You can't use this ultra-wide camera at night time because it will contain so much grain and noise in the videos and pictures. The sensor aperture is F/2.2 which cannot collect more light at night time and thus can take average shots at night time with more noise.
There is a telephoto camera of 8 MP too. This camera sensor has optical image stabilization which is very important to give in a telephoto camera. The camera lens aperture is F/3.4 which is good at taking crisp shots, remember that the Samsung galaxy s22 ultra has a 10MP the telephoto camera sensor with an aperture of F/4.9. So seeing this wider aperture means the camera will have some interesting features. This camera is 5X optical zoom. And man the details on this camera is on another level. The sensor is big and bright.
The main lens also has optical image stabilization. Which is not as good as the flagship phones but still can do a good job while taking photos or making videos.
SELFIE CAMERA:
| | |
| --- | --- |
| Single | 16 MP, f/2.0, 26mm (wide), 1/2.8″, 1.22µm, under display |
| Features | HDR |
| Video | 4K@30fps, 1080p@30fps |
The ZTE Nubia Z40 Pro has a 16-megapixel Selfie Camera. Their recording is kept on 4K at 30 FPS. But considering this Selfie Camera is 16 megapixels. This means it will contain more details. It's also F/2.0. Which will collect more light at night photography. The sensor will be good at collecting light at the night time.  The sensor is also giving some high detail shots with good dynamic range. The sensor provides large pixels with high details. This is awesome, because the camera sensor is large and combined with a wider aperture.
Connectivity:
| | |
| --- | --- |
| Wi-Fi standard | Wi-Fi 6 |
| Bluetooth version | 5.2 |
| USB type | USB Type-C |
| USB version | 3.1 |
| NFC | Yes |
The ZTE Nubia Z40 Pro comes with Wi-Fi 6 with the Bluetooth version of 5.2. Which contains more speed and a better coverage area. Thanks for the Wi-Fi 6. It gives you a better upload and download speed. ZTE Nubia Z40 Pro comes with USB type C 3.1, which makes it faster and more efficient. There is also NFC support in this smartphone.
SOUND:
| | |
| --- | --- |
| Speakers | Stereo |
| Headphone audio jack | No |
| Dolby Atmos | Yes |
ZTE Nubia Z40 Pro Doesn't have a headphone jack. It's a Flagship smartphone so, it has Stereo speakers with Dolby atoms support. The speakers sound well. You can listen to music and can take calls with these speakers. It's also supported by Dolby Atmos which makes the sound experience on another level. The speaker has a nice amount of bass in the sound. You can feel the beat with the nice sound. There is two speakers one at the bottom and another at the top. The top speaker is also using to take calls. The sound quality of ZTE Nubia Z40 Pro is A+.
Colors:
| | |
| --- | --- |
| Colors | Interstellar Black, Galaxy |
The ZTE Nubia Z40 Pro just lunching with two colors which are Interstellar Black, and Galaxy, I personally like the Interstellar Black color. Because it gives a natural look to the ZTE Nubia Z40 Pro.
Final Thoughts:
So, this was my review of the ZTE Nubia Z40 Pro. This phone has an amazing chipset with an amazing camera. So, I highly recommend buying this phone if you are looking for a good value Flagship gaming smartphone.
If you guys learned something new then make sure to check out my other articles as well as my YouTube channel.
My YouTube channel Link: