Arduino Projects
How to use GSM and Bluetooth Together To monitor Any Sensors wirelessly using Arduino
GSM and Bluetooth Together, Project Description:
GSM and Bluetooth Together- In this Tutorial, you will learn how to use GSM and Bluetooth together to monitor any Sensors. In this project, the sensors can be monitored wirelessly using the GSM sim900A module and HC-05 Bluetooth module.  In this tutorial, we will cover
Bluetooth settings using AT commands, like setting the pin code, changing the name of the Bluetooth module
dht11 sensor datasheet, pinouts, and soldering
GSM module pinouts and explanation
Complete circuit diagram explanation
Programming
testing
For the complete step-by-step explanation Watch Video Tutorial given at the end of this Article.
Amazon Links:
DHT11 Temperature and Humidity Module:
Other Tools and Components:
Super Starter kit for Beginners
PCB small portable drill machines
*Please Note: These are affiliate links. I may make a commission if you buy the components through these links. I would appreciate your support in this way!


Why we use GSM and Bluetooth together?
While we are at the site near to the hardware then there is no need to use the GSM for monitoring the Sensor. The best way can be to use the Bluetooth module. We can design our own android cell phone application to monitor different sensors.
GSM and Bluetooth Together Arduino Circuit Diagram: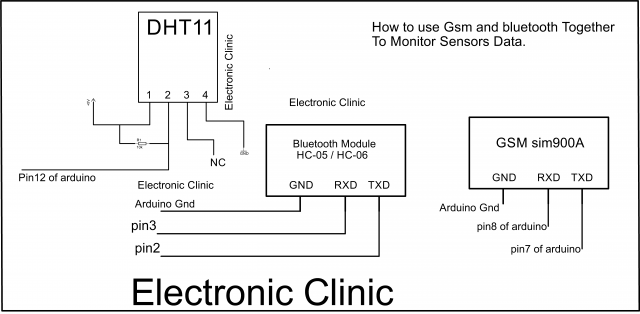 Download:
Android cell phone application:gms and bluetooth together
GSM and Bluetooth Arduino Programming:
Both the modules, GSM SIM900A and HC-05 Bluetooth communicates with the Arduino using the Serial communication. As you know, in Arduino we have only one Serial Port, which can be used only for one device at a time unless you use some kind of a multiplexer. But instead of using complex hardware components, we can define other Serial ports using the SoftwareSerial library.
This way we can connect one device with the Arduino's default Serial port, and the other device with our own defined Serial port. This is the reason I defined a serial port with the name nodemcu on pins 2 and 3.
1

2

3

4

5

6

7

8

9

10

11

12

13

14

15

16

17

18

19

20

21

22

23

24

25

26

27

28

29

30

31

32

33

34

35

36

37

38

39

40

41

42

43

44

45

46

47

48

49

50

51

52

53

54

55

56

57

58

59

60

61

62

63

64

65

66

67

68

69

70

71

72

73

74

75

76

77

78

79

80

81

82

83

84

85

86

87

88

89

90

91

92

93

94

95

96

97

98

99

100

101

102

103

104

105

106

107

108

109

110

111

112

113

114

115

116

117

118

119

120

121

122

123

124

125

126

127

128

129

130

131

132

133

134

135

136

137

138

139

140

141

142

143

144

145

146

147

148

149

150

151

152

153

#include <SoftwareSerial.h>

SoftwareSerial

nodemcu

(

2

,

3

)

;

int

firstVal

,

secondVal

,

thirdVal

;

int

tempin

=

A1

;

// temperature sensor. middle pin

int

vrdata

;

// store temperature

String

myString

;

// complete message from arduino, which consistors of snesors data

char

rdata

;

// received charactors

String

cdata

;

// complete data

int

heater

=

13

;

// for automatic control

int

ac

=

12

;

// for automatic control

int

dheater

=

10

;

// disconnect heater

int

dac

=

11

;

//disconnect ac

digitalWrite

(

heater

,

LOW

)

;

pinMode

(

dheater

,

OUTPUT

)

;

digitalWrite

(

dheater

,

LOW

)

;

if

(

nodemcu

.

available

(

)

==

0

)

mydata

=

mydata

+

vrdata

+

","

;

if

(

nodemcu

.

available

(

)

>

0

)

myString

=

myString

+

rdata

;

Serial

.

println

(

myString

)

;

String

l

=

getValue

(

myString

,

','

,

0

)

;

String

m

=

getValue

(

myString

,

','

,

1

)

;

String

n

=

getValue

(

myString

,

','

,

2

)

;

firstVal

=

l

.

toInt

(

)

;

// Slider value

secondVal

=

m

.

toInt

(

)

;

// device1

thirdVal

=

n

.

toInt

(

)

;

// device 2

Serial

.

println

(

"Slider Value:"

)

;

Serial

.

println

(

firstVal

)

;

if

(

vrdata

<

firstVal

)

// if temperature is less than the pre defined temperature, set through app

digitalWrite

(

heater

,

HIGH

)

;

if

(

vrdata

>

(

firstVal

+

5

)

)

digitalWrite

(

heater

,

LOW

)

;

digitalWrite

(

dheater

,

LOW

)

;

digitalWrite

(

dheater

,

HIGH

)

;

Serial

.

println

(

"Device1:"

)

;

Serial

.

println

(

secondVal

)

;

Serial

.

println

(

"device 2:"

)

;

Serial

.

println

(

thirdVal

)

;

String

getValue

(

String

data

,

char

separator

,

int

index

)

int

strIndex

[

]

=

{

0

,

-

1

}

;

int

maxIndex

=

data

.

length

(

)

-

1

;

for

(

int

i

=

0

;

i

<=

maxIndex

&&

found

<=

index

;

i

++

)

{

if

(

data

.

charAt

(

i

)

==

separator

||

i

==

maxIndex

)

{

strIndex

[

0

]

=

strIndex

[

1

]

+

1

;

strIndex

[

1

]

=

(

i

==

maxIndex

)

?

i

+

1

:

i

;

return

found

>

index

?

data

.

substring

(

strIndex

[

0

]

,

strIndex

[

1

]

)

:

""

;

int

rawvoltage

=

analogRead

(

tempin

)

;

float

millivolts

=

(

rawvoltage

/

1024.0

)

*

5000

;

float

celsius

=

millivolts

/

10

;